Happy July 4th for tomorrow, to my American friends!
(and anyone else who's going to be celebrating it!)
I've decided to extend the date of my 'Children Of The Mist contest' by one day, until Midnight July 4th., so you've still time to enter.
Here's a reminder of the details:


Tamarith, the heroine of 'Children Of The Mist' loves flowers and butterflies (Yes, even in the cold air of Niflheim there are butterflies) I happen to know shehas a pretty and colourful butterfly garland hanging over the window of her favourite room - and you could win one just like it, to hang in a conservatory, garden room or a bedroom to enjoy the wonder of the natural world even when you are inside.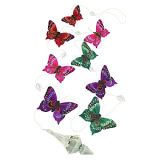 Features
8 Butterflies
Crafted from dyed and painted feathers
Plastic cord
Decorated with glass beads
Glass crystal weight at the bottom

In addition I'll give the winner a $6 Wild Rose Press Gift Token
What do you have to do to win this?
Watch the video for 'Children Of The Mist' here and tell me
what it is that Tamarith may always yearn for?

Then email me with the correct answer at hywelalyn@hywelalyn.co.uk
by Midnight Saturday July 4th. I'll announce the winner as soon as I can after the contest closes.