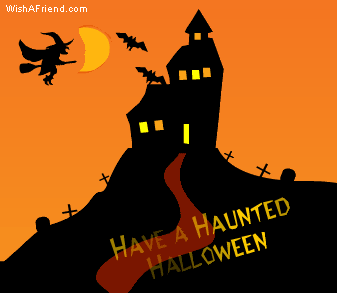 LET THE FUN BEGIN - TRICK OR TREATS GALO
RE
!
Welcome visitor - do not be afraid. Yes, it is
Samhain
- All Hallows Eve and you probably did not expect to see me here. Of course what you see is merely my spirit - I decided to haunt my author's blog to seek revenge for what she put me through in her book - no, I only jest, I am Terpsichore, muse of dance, and I bring the joy of music and dancing, nothing more - but just for tonight I thought I'd send my spirit here, while I relax at the Springs of Hippocrene. Don't shrink away - just because I can direct my spirit where I wish does not mean I am a ghost - I'd have to be dead, and I am very much alive. You see I'm a muse - a Greek goddess, and am immortal, so I cannot die.
If you've read my story 'Dancing With Fate', from 'The Song Of The Muses', you will know that my brother, Apollo, sent me on a quest to ancient Wales, and whilst there I met my true love, Myrddin ab Morfryn. He had his own destiny to fulfil, but now we are together for eternity. We still love to visit his homeland though, the misty mountains and deep lakes - and the long stretches of sandy beach beside the vast ocean. Myrddin tells me many folk tales and histories of Wales in what is now the distant past, one tale, also mentioned in the book penned by Hywela Lyn, is the story of Cantre'r Gwaelod, or
Maes Gwyddno
,
as it was known in Myrddin's time. Would you like to hear it? Then seat youself and lower the lamps. Draw closer to the fire and listen to my tale:
There once was land instead of sea in what is now called Cardigan Bay. This land was ruled by a king called Gwyddno Garanhir. It was beautiful country and hundreds of people lived there. But the land was below sea level so the only way that they could keep the sea from flooding the country was with a huge stone wall. The person in charge of looking after the wall was the Prince Seithenin. His job was to make sure that there were always at least two watchmen in the towers on the wall and more at high tide or when there was a storm. The watchmen were there to watch for holes in the great sea wall. Somtimes holes would appear, but it was not a problem. All they had to do was ring a big bell in the main tower and people would come running up from the villages to repair them.

One day the king decided to have a big party and everyone was to be invited., including of course, Seithenyn. He put two watchmen on the tower. It was a good party and everybody got very drunk. Meanwhile the two watchmen that were left on the tower were getting worried because their reliefs hadn't turned up. So Gwyn ap Llywarch, one of the watchmen, sent the other man to find out what was happening. After a few hours Gwyn started to get nervous. It was getting quite dark, no-one had come to relieve him yet and a storm was brewing.The storm became much worse and a hole appeared in the wall. Gwyn rushed to the main tower and rang the bell as loudly as he could, but no help came. So he jumped on his horse and rode to the castle. When he got there he found everybody drunk and sleeping. He saw Seithenyn and tried to wake him, but it was no good. He couldn't wake anyone else either, they had all eaten and drunk too much.

Then Gwyn noticed that the king's daughter wasn't in the hall. He ran upstairs and found the princess in her room. They ran down to the stables and jumped onto Gwyn's horse. They rode away accross the border and onto the high ground. There they stood and helplessly watched the sea wall burst and the country flood. Everyone else was drowned.

Gwyn and the princess married and lived on the shore of the bay where once Cantre'r Gwaelod had been. It is said that on a quiet day, when the bay is calm, you can still hear the ghostly bells of the watchtower in Cantre'r Gwaelod ringing under the sea.

Did you like my story? It is true of course. If you'd like another go to the pumpkins at the bottom of this page.


Click on the 'chat' button at the top to interact with The Wild Rose Press Authors at their Halloween Ball. The Ball starts at Midnight Hywela Lyn is on between 3.30 and 3.50 am, and then again from 9.00 am to 9.30 am! Please come and join her and her 'Paranormal' friends.


(Don't worry about the 'checkout' button - It's FREE
)
visit the Wild Rose Press HERE
and click on the 'Chat' button in the top menu to join in the fun at the Halloween Ball.
If you've ever wanted to chat to the Wild Rose Press Authors, now's your chance!
Hywela Lyn is on from 3.30 a.m until 3.50 and again from 9.am to 9.20. She'll be giving away a fantastic prize too - a copy of my very own story, 'Dancing With Fate'. Learn how I helped ensure a legend didn't die before he had chance to fulfil his destiny, and how I had to dance with fate to save him. (And if you're not lucky enough to win my story you can always purchase it for a mere $3 by clicking
HERE
Now don't leave her chatting to herself will you, or Olympus only knows what she'll get me doing in her next book. Well ~ I'm there now, partaking of some fineWelsh Mead, I seem to have acquired a taste for it!